Happy New Year Shayari 2023 | happy new year wishing status 2023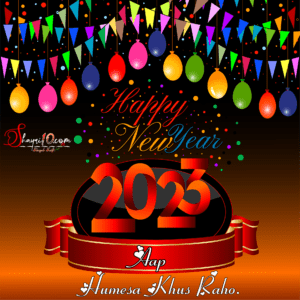 ━━━━✧❂✧━━━━
आलू सडे – सडे , टमाटर गले – गले ।
नया साल मुबारक हो , रजाई में पड़े पड़े । 2023
━━━━✧❂✧━━━━
देखो फिर रात आ गयी गुड नाईट कहने की बात याद आ गयी
हम बैठे थे सितारों की पनाह में चाँद को देखा तो आपकी याद आ गयी .
HAPPY NEW YEAR MY DEAR 
━━━━✧❂✧━━━━
भुला दो बिता हुआ कल , दिल बसाओ आने वाला कल ,
हंसो और हंसाओ , चाहे जो भी हो पल ,
खुशियो लेकर आएगा आने वाला कल ,
Happy New Year Dear
━━━━✧❂✧━━━━
━━━━✧❂✧━━━━
हर साल आता है ,
हर साल जाता है
इस साल आपको वो सब मिले
जो आपका दिल चाहता है
नव वर्ष की हार्दिक शुभकामनाएँ
━━━━✧❂✧━━━━
Ye Saal Bhi Beet Chala Hai Chand Surkhio Ko Pahchan De Kar
… Kisi Ko Khushi To Kisi Ko Gumo Ka Inam De Kar …
Kahi Manayi Logo Ne Diwali Kisi Ke Jeet Ki …
Kahi Khud Insaniyat Se Insan Harta Hua Nazar Aaya Hame
Kahi Mile Dilo Se Dil Bani Kai Jodia Yaha …
Kahi Koi Kisi Ka Dil Tod Use Barbad Kar Gya …
Koi Janma To Khushio Ki Atishbazi Hui .Aur Koi Hame
Akela Chhod Kar Mar Gya …
━━━━✧❂✧━━━━
(HINDI SAHAYRI )
ये साल भी बीट चला है चांद सुरखियो को पहचान दे कर…
किसी को खुशी तो किसी को गुमो का इनाम दे कर…
कही मनाई लोगो ने दीवाली किसी के जीत की…
कहीं खुद इंसानियत से इंसान हरता हुआ नजर आया हम …
कहीं मिले दिलों से दिल बनी का जोड़ी यहां …
कहीं कोई किसी का दिल तोड़ उसे बरबाद कर गया …
कोई जन्म तो खुशियों की अतिशबाजी हुई …
और कोई हमें अकेला छोड़ कर मार गया .
━━━━✧❂✧━━━━
━━━━✧❂✧━━━━
Jate Huye December Ko Ek Thandi C Slam Dete Hai ….
Naye Saal Ka Karte Hai Istaqbaal
Aur Purane Sal Ko Aram Dete Hai …
Khushi Gami Jo Bhi Mili Sabko Bhoola Kar …
Aao Naye Sal Ko Kuchh Achhe Kam Dete Hai … :
Wish U Happy A Very Happy New Year Friends .
━━━━✧❂✧━━━━
(HINDI SAHAYRI )
जाते हुए दिसंबर सबको एक ठंडी सा सलाम देते हैं ….
नए साल का करते हैं इस्तकबाल और पुराने साल को आराम देते हैं …
ख़ुशी गामी जो भी मिली सबको भूला कर…
आओ नए साल को कुछ अच्छे काम देते हैं…
विश यू हैप्पी ए वेरी हैप्पी न्यू ईयर फ्रें
 HALLO DOSTO APKO VIDEO SHAYARI KI JARURAT HAI TO HUMARE
YOUTUBE CHANNEL SUBSCRIBE KAR SKATE HAI
Read More Related post
happy new year shayari 2023,happy new year shayari 2023,happy new year shayari,happy new year shayari status 2022,happy new year shayari video,happy new year 2023,happy new year dosti shayari,happy new year status