Online But No Reply Shayari | मैसेज ना करने पर शायरी 2023
No Message No Call :  Hello doston aap sabhi ka Swagat hai aapki is website mein aapko Yahan per milengi online but no reply shayari , offline shayari ,no call no message, ignore sad shayari, Hindi shayari, Agar aapko pasand hai to Jarur padhen aur apne friends ko share Jarur Karen thank u so Mach
No call, No Message, No Reply, No Chat Status Video Download 2023 
Online But No Reply Shayari
════ ⋆★⋆ ════
Online..
Online Jo Kabhi Mere online  Aane Se Pahle Mujhe Hii likh diya Karte The Aaj wahi log mera message seen Karke reply dena Bhul Jaate Hain
════ ⋆★⋆ ════
Ego win
Na usne message kiya na maine message kiya Hua yah ki Hamara relation ship Tut Gaya aur ego jeet gaya
════ ⋆★⋆ ════
Seen..
Baat Nahin Karni to Sidha bata diya karo Yun seen Karke reply na kar dena yah Konsi Baat Hai
════ ⋆★⋆ ════
No Message No Seen Sad Shayari Image 
Offline..
Ab wo Insan Mujhe online Dekhkar offline ho jata hai jo kabhi mere offline Ho Jaane per call per call kiya Karta Tha
════ ⋆★⋆ ════
Message
Message Bhi pahle main Karun Aur attitude bhi jhelo Bhad mein Jao Tum
════ ⋆★⋆ ════
Message
Really Mein sabse Jyada hurt karta hai use Insan ka message seen Karke reply na karna Jiske message ko dekh kar Ham auron se baat karna band kar dete Hain
════ ⋆★⋆ ════
Ignore Message Sad Shayari Hindi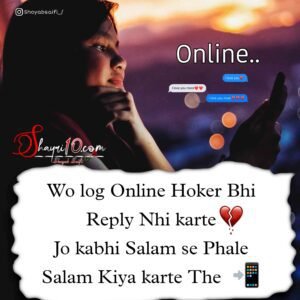 Kyo Yaar
Koi marta rahata hai baat karne ke liye aur kisi ko Prawah Tak Nahin Hoti
════ ⋆★⋆ ════
Reply..
Agar Ham 0.2 second Mei  reply karte hain to iska yah matlab hai ki Ham Bhi aapse do second Mein reply ki ummid rakhte Hain
════ ⋆★⋆ ════
Chat karo
Mujhe Fark Nahin Padta tum kitne Logon se chat karte ho bus Ham Itna Kahana Chahte Hain Ki Jab Ham message Karen tab UN Sabke message ignore Karke tum sirf mujhse baat karo
════ ⋆★⋆ ════ 
Online But No Reply Shayari
Last Seen..
Baten band kar di uski chat bhi delete kar di but last seen check karne ki Aadat Ab Tak Nahin gai
════ ⋆★⋆ ════
Yad
mohabbat na Sahi Magar Yad to kar liya karo Sath Na Sahi Magar Baat to kar liya karo Thodi Si Khushi Hi Sahi Magar de diya karo
════ ⋆★⋆ ════
Chat
chat karne mein tab maja Aata Hai Jab message send hote hi typing start ho jaaye
════ ⋆★⋆ ════ 
Late Reply Sad Shayari Hindi
Online..
use online Dekhkar Dil bahut khush Hota Hai Magar Jab Maloom Hota Hai vah online Mere Liye Nahin Kisi Aur Ke Liye Hai yah Dil Fir Akele Mein bahut Rota Hai
════ ⋆★⋆ ═══
Dil Me ❤
Kya Shikayat Karen UN Logon se Jinke Dilon Mein Ehsas Hi Na Ho
════ ⋆★⋆ ════
Online..
Wo Online Hai Magar Kisi Aur Ke Liye
════ ⋆★⋆ ════
Intezaar
Baat karne ke liye bahut log Hain mere pass Fir Bhi Mujhe Intezar sirf Tumhare message ka rahata hai
════ ⋆★⋆ ════
Online Chating Love Shayari❤ For Couple
Love ❤  Message
Kya aapki life mein bhi koi aisa hai Jiske message aate hi aapke face per smile a Jaati Hai
════ ⋆★⋆ ════
Muskaan🥰
Tumhara ek message hi Kafi hai mere Chehre per Muskan laane ke liye
════ ⋆★⋆ ════
Ek Message
Meri lakh tension ke bich Tera ek message Aa Jana sukun Hai Mere Liye
════ ⋆★⋆ ════
100% Sahi
Bus reply Aate the ek message ke aur aaj ek reply Nahin Aata Chahe 10 message kardo log Busy Nahin Hote Badal Jaate Hain
════ ⋆★⋆ ════
Online But No Reply Shayari
Importance💔
itna busy koi nahi hota bus aapki importance khatm Ho Jaati Hai
════ ⋆★⋆ ════
Life..
Life Mein Kuchh log Aise Bhi Hote Hain Jo Milte Kabhi Nahin lekin Yad har roj Aate Hain
════ ⋆★⋆ ════
Tumse baat
pure Din Mein Mujhe sabse Jyada Khushi tumse baat karke hi milati hai
════ ⋆★⋆ ════
 Seen..
Wo log Online Hoker Bhi Reply Nhi karte
Jo kabhi Salam se Phale Salam Kiya karte The  📲
════ ⋆★⋆ ════
Message Ignore Sad Quotes Hindi
Online..
Yad Hai Tujhe vah Tera Aadhi Raat Ko Mujhe Yad karna call Karke online Bulana
════ ⋆★⋆ ════
Sach Hai
Chhoti Umra Mein Pyar aur Badi Umra Mein Dhokha bahut
════ ⋆★⋆ ════
Online..
Ham online bus do wajha SE Aate Hain
Ek to Tumhara last seen dekhne Aur dusra Tumhare message ka wait karne
════ ⋆★⋆ ════
Online..
Mere online hone ka matlab yah Nahin Ki main dusron se baat kar raha hun iska matlab yah Hai Ki Main Tumhare message Ka Intezar kar raha hun
════ ⋆★⋆ ════
Online But No Message sad Image 
Pyar aur Gussa
Gussa Itna Ki Main message kyon Karun usne hi Ladai Ki Hai Aur Pyar Itna ki Uske hi message ka wait  Karte Rahana
════ ⋆★⋆ ════
Saccha pyar
saccha pyar Wahi Hota Hai Jab bye bolane ke bad bhi chat hoti rahti hai
════ ⋆★⋆ ════
Ek baat bolun..
Agar Main Sabko ignore Karke sirf Tumko reply kar raha hun to Tumhara bhi Hak banta hai ki tum sirf mujhse baat karo Kisi Aur se nahin
════ ⋆★⋆ ════
Try kar lo..
kisi ko apni life mein banae rakhne ke liye apni acchi baten mat batao apni Buri aadaten batao agar vah aapse pyar karta hoga to Sath rahega
════ ⋆★⋆ ════
मेसेज ना करने पर शायरी 2023
I am  Busy
Baat bus importance ki Hoti Hai Varna main bhi kah Dun
I am  Busy
════ ⋆★⋆ ════
Aajkal log Pyar To Nahin Karte lekin Kuchh Dinon ke liye Pyar Ke Naam per majak bahut Achcha Karte Hain
════ ⋆★⋆ ════
last seen..
Aajkal Na Jaane Kitni sari love story bus ek dusre ke last seen Dekh Kar chal rahi hain
════ ⋆★⋆ ════
Convention..
Heart :❤ Woh Online Hai Message karke Dekhta Hu..
Mind: Fir Dimag Ne kaha Ignore hone ka Irada Hai Kiya..
════ ⋆★⋆ ════ 
Late Seen No Reply For lover shayari
izzat..
Use Ek Insan ke khone ke dar se na jaane kitne bar Khud ki izzat gawahi hai maine
════ ⋆★⋆ ════
silent..
Chup Rahana hi theek hai ab log Alfazon Ka  galat Matlab Nikal Lete Hain
════ ⋆★⋆ ════
Baat..
Baat Tak Nhi Karte Or..
Mohobbat ka Dawa Karte ho..
════ ⋆★⋆ ════
Baat Na karne Par Shayari
Taklif
Tum online ho per mujhse baat tak Nahin Ki yah chij mujhe bahut taklif Deti Hai
════ ⋆★⋆ ════
Hmmm..
Sach to yah hai Jise Aapse Baat karni Hogi
Wo apke Hmm Ka Bhi Reply karega..
════ ⋆★⋆ ════
Reply..
Kya apne Bhi Kabhi Roye Hue  kisi Ke Reply ka Intezar kiya hai
════ ⋆★⋆ ════
Pyar me.
Ager 5 Ghante ki Neend me Bhi Aap 8 baar Uthke Usko Msg check karte ho Toh Barbaad ho Chuke ho aap uske pyar me..
════ ⋆★⋆ ════
Offline..
Offline chale jaane se bus message Aana band Hota Hai Kisi Ki yaden
════ ⋆★⋆ ════
No  Reply..
Ham to online unke liye Aate Hain Aur Ek wo Hai Ki Message seen karke Reply Bhi Nhi karte..
════ ⋆★⋆ ════
Time.
Aaj Uske pass Waqt Nahin Jo Kabhi Mujhse Baat kiye Bina Rah Nahin Sakte the
════ ⋆★⋆ ════
Online..
Tumhen online Dekhkar meri life badh Jaati Hai Ab tum phone per Nahin bus Apne bahon mein block karne ki koshish ki Jaati Hai
════ ⋆★⋆ ════
No Calling Sad Shayari Girls Image Download
Late Reply..
Wo gussa Karti Hai Fir Bhi message ka wait Karti Hai Jab Bhi message karta hun janbuj kar reply let karti hai
════ ⋆★⋆ ════
No Call No Message
Sabse Jyada heart tab Hota Hai Jab aap Kisi Ko miss karo Or unka Na Call aye na Message
════ ⋆★⋆ ═══
Online But No Reply Shayari | मैसेज ना करने पर शायरी 2023